WHY INCLUSION
In an increasing number of early childhood programs around the country, teachers, children, and parents are discovering the benefits of educating young children with special needs together with their same-age typically developing peers. Since learning is so important in the early years, this is the best time for children to begin to respect all people's differences and the contributions each individual makes. The key to creating a successful inclusive program is educating ourselves and others about how to ensure every student in the classroom has the chance to reach his or her fullest potential.

Early childhood teachers' strong knowledge of child development helps them to successfully teach young children with all talents, interests, and abilities. In effective inclusive programs, teachers adapt activities to include all students, even though their individual goals may be different. At times, early childhood professionals and children may benefit from the assistance of related professionals such as physical therapists and other school personnel who recognize children's individual interests and strengths.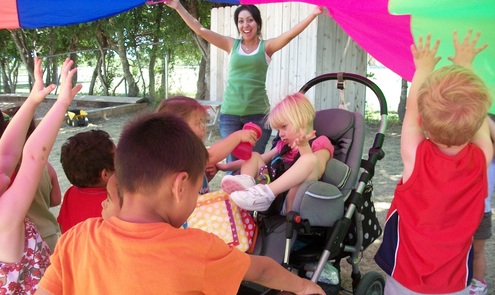 BENEFITS OF INCLUSION
Research shows that the benefits of inclusive classrooms reach beyond academics. This is particularly important for young children, who learn best when they feel safe, secure, and at home in their classrooms. An environment that encourages young children's social and emotional development will stimulate all aspects of their learning.
Children in inclusive classrooms:
demonstrate increased acceptance and appreciation of diversity;
develop better communication and social skills;
show greater development in moral and ethical principles;
create warm and caring friendships;
demonstrate increased self-esteem;
opportunities to master activities by practicing and teaching others;
ALL students needs are better met, greater resources for everyone; and
GREATER ACADEMIC OUTCOMES.